How to Make Lemon Ginger Turmeric Tea
I filmed a Facebook live video sharing:
How I meal prep — get my 7 weeknight dinner meal plan, prep guide and grocery list here.
My go-to lunch recipe — this roasted vegetable salad bowl.
And this homemade detox tea recipe.
You can skip to minute 2:42 of this video to see how I make this lemon ginger turmeric tea recipe. 
How to Make Lemon Ginger Turmeric Tea FAQs
1. I only have ground cinnamon, not cinnamon sticks. Is that okay?
Yes! Just make sure to strain the mixture using a fine mesh, cloth or nut milk bag if you don't want spice particles in your final tea.
Start with about 1-2 tsp of ground cinnamon in the detox tea concentrate and adjust to your personal taste preferences from there.
2. Do I have to add the cayenne? I don't like spicy things.
No, feel free to skip the cayenne if you don't like the spice it adds to the tea.
I omitted the cayenne when I was pregnant as it personally gave me heartburn.
If you want to make this tea sweet instead of spicy, you also can add a drizzle of honey or maple syrup before serving.
3. Do I have to peel the ginger?
You can skip the peeling of the ginger if you thoroughly wash your ginger before boiling it.
You just want to be sure that any dirt is completely removed since you'll be drinking the liquid it's boiling in. Alternatively, use a spoon or peeler to quickly remove the papery skin before boiling.
4. Do I have to use fresh ginger?
I personally prefer fresh ginger for this lemon ginger tea.
That said, you can use ground ginger as an alternative. Start with 1 tsp ground ginger and add more to taste from there.
PRO TIP: you can peel and slice fresh ginger root and keep it in a sealed bag in the freezer for up to 3 months. So you can buy a larger piece of ginger root and use it multiple times.
5. Can I drink this ginger tea during pregnancy?
I did.
It was my go to for alleviating pregnancy morning sickness, nausea and fatigue. And my alternative to drinking coffee.
I did omit the cayenne during pregnancy, and cut back on the turmeric as it gave me heart burn.
There were times I had trouble stomaching all of the ingredients. When I was extra nauseous I would just add the fresh ginger root to warm water. 

Lemon Ginger Turmeric Tea Recipe
RECIPE NOTE: this recipe is to create a batch of the Ginger Turmeric Tea concentrate, which I then store in my refrigerator and dilute throughout the week. When I'm ready to make a cup to sip on, I mix 1/4 cup of this concentrated detox tea with 6-8 oz hot water and the juice of 1/2 of a fresh lemon. 
Homemade Detox Tea Recipe: Lemon Ginger Turmeric Tea
Start the day with this flavorful and healing lemon ginger turmeric tea. A homemade detox tea recipe that supports your immune system and maintains a healthy digestive system.
Author: Lindsey, Nourish Move Love
Recipe type: Drink, Tea
Cuisine: Drink
Serves: 10-12
Ingredients
6 c water
1 chunk fresh ginger, peeled (approximately 5-6" in length)
3 cinnamon sticks (or 1-2 tsp ground cinnamon)
1 tsp ground turmeric
½ tsp cayenne pepper (optional)
6 fresh lemons (and the juice of ½ fresh lemon when ready to serve)
Instructions
Peel the fresh ginger root and dice into thin slices.
Combine the fresh ginger slices and water in a large pot or saucepan over high heat on the stove.
Bring to a boil. Then turn to low heat and let simmer for approximately 10 minutes.
After 10 minutes, add the cinnamon sticks (or ground cinnamon), turmeric and cayenne and simmer on low heat for another 10 minutes, stirring occasionally.
Remove from heat, let cool and strain.
*This makes about 4-5 cups (some water will steam off while boiling) of a concentrated version of the detox tea which you can store in a glass container in the fridge. You can drink this concentrate warm or cold.
When ready to enjoy add the juice of ½ fresh lemon juice to the concentrated mix.
I personally like to add ¼ c of this concentrated mixture to 6 oz hot water (with fresh lemon juice).
Notes
*I personally like to make this homemade detox tea recipe in bulk. Then I store this concentrated mixture it in a large mason jar in the fridge. When I'm ready to drink, I mix ¼ cup of this concentrated turmeric ginger tea with the juice of ½ fresh lemon and 6 oz hot water.
Nutrition Information
Serving size: ¼ c
RECIPE TIP:
Make your lemons easier to squeeze by placing a flat hand firmly on top of the them; then roll it back and forth on the counter with firm pressure.
If you like this recipe I suggest investing in:
A lemon squeezer (under $10 on Amazon).
One half gallon or 64 oz mason jar for storing the bulk concentrated detox tea in the fridge. 
Pin this Lemon Ginger Turmeric Tea Recipe
The best home remedy for colds, sinus infections, and sore throat.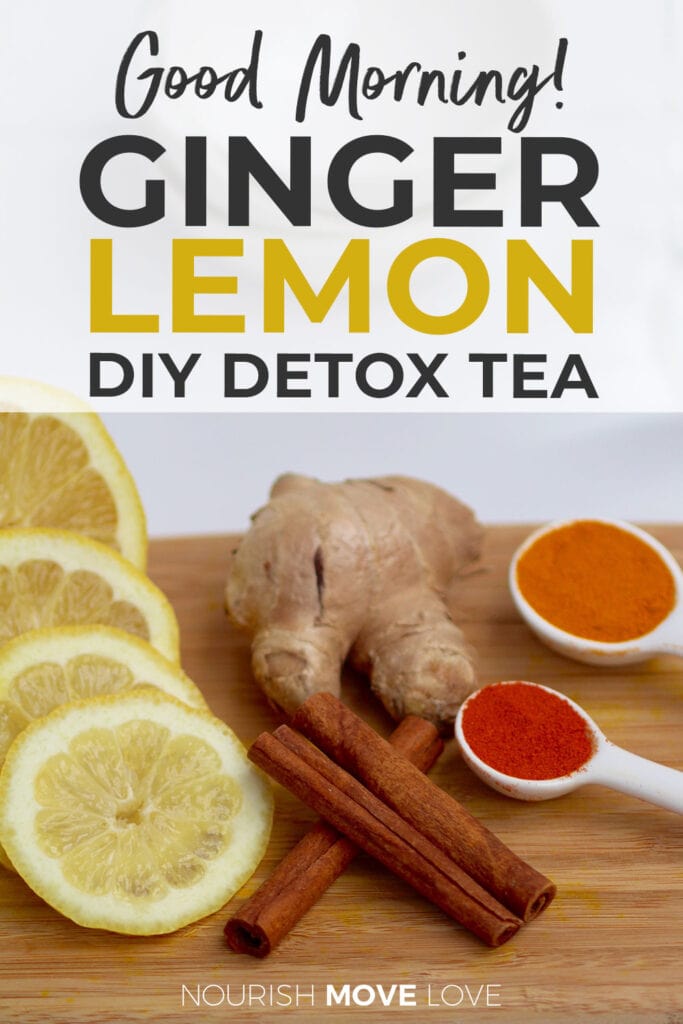 More Detox Recipes
This post does include affiliate links and I earn a small commission on products purchased using these links. All words and opinions are my own. Thank you for supporting Nourish Move Love.